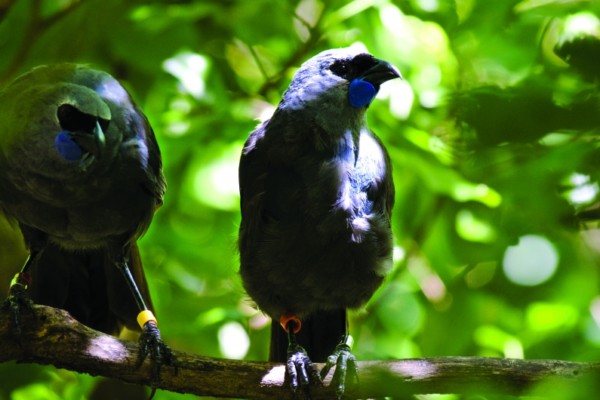 The Howick Tramping Club's (HTC) long-running pest control crusade in the Mangatutu Valley in Pureora Forest Park (between Taupo and Te Kuiti) is the stuff of legends. The forest, whose population of kokako had dwindled to just 7 pairs in the 1990s, is now a stronghold for this spectacularly beautiful bird, the last surviving member of an ancient family of wattlebirds that includes the extinct huia. Read more >>
With an estimated 110 pairs of kokako now in the valley, the small group of HTC volunteers – who put in up to 1600 volunteer hours each year – has been so successful that kokako and other species have been able to be transferred to other locations to establish new populations.
The HTC began helping with pest control in 1997 on the back of earlier aerial 1080 and ground control operations.
With support from DOC and a growing volunteer base including other tramping clubs, the HTC today covers 1500 ha in Mangatutu and a further 600 ha in the nearby Tunawaea.
​In September 12 volunteers spent a long weekend clearing access tracks, setting up RTI tunnels and bagging bait in preparation for their spring/summer operations. With rat lines giving RTIs of 66% and 60% in Mangatutu and Tunawaea respectively, they're counting on very thorough and timely bait distribution. ​